Introduction
Esra Bilgiç is a Turkish actress. She is best known for portraying the role of Halime Hatun in the historical adventure television series Diriliş: Ertuğrul from 2014 to 2018. As of 2020, she is the leading actress in the crime drama series Ramo. There are number of Esra Bilgiç facebook pages. All of these facebook pages are created by Esra fans.
Esra Bilgiç was born on October 14, 1992 in Ankara, Turkey. In 2014, Esra made her debut with television series Diriliş: Ertuğrul. She also acted in Bir Umut Yeter series alongside Tolgahan Sayisman.
Diriliş: Ertuğrul (2014-2018)
Her co-actors are Engin Altan Düzyatan and Hülya Darcan. Esra Bilgiç appears as Halime Hatun in the series "Diriliş: Ertuğrul".
Esra won serveral awards for her work in Diriliş: Ertuğrul. She won award of Best Female Actress for series Diriliş: Ertuğrul from year 2014 to 2016 consecutively. These awards held at different ceremonies. Details of awards nominations and ceremony are given below. She was announced winner in all the following list of awards.
She won award of "Best Female Actress in Series" in 2014 held at Antalya TV Awards.
Won award of "Best Female Actress in Series" in 2015 held at Sosyal Farkındalık Ödülleri.
Won award of "Best Female Actress" in 2015 held at Sadri Alışık Theater and cinema Awards.
Won award of "Best Female Actress in Series" in 2015 held at Anadolu Media Ödülleri.
Won award of "Best Female Actress" in 2015 held at Türkiye Gençlik Ödülleri.
Relations & Family
Esra Bilgiç was dating a professional Turkish footballer Gökhan Töre since 2014. The couple finally got married on 21 October 2017. Esra Bilgiç's wedding was a pleasant time in her life but unfortunately the couple got separated in year 2019. She studied at Bilkent International University, Istanbul and has one sibling (brother)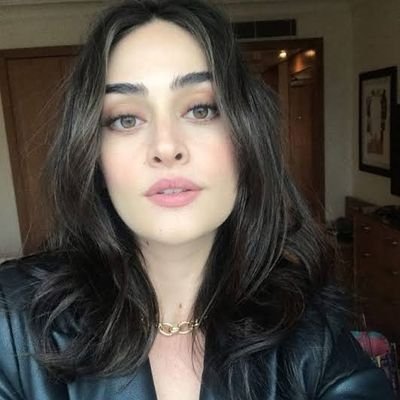 Esra is a brilliant actress and a fashion icon for both Turkish and Pakistani girls. The diva took to Instagram to share an inside picture from her drama Ramo.
Her aşkın sonunda gözyaşı vardır. Akar damla damla sel olur gider.

Esra Bilgiç
Fame in Pakistan
She has been extremely popular in Pakistan ever since the broadcast of Turkish series Dirilis Ertugrul in Pakistan in which she played a leading role of Halime Sultan-the Seljuk empire princess. The actress who is known in the industry for her toned physique, her natural beauty and of course, her killer moves has a massive fan following in Pakistan.
In year 2020 Esra endorsed brand including Peshawar Zalmi, QMobile and Jazz. With Jazz her adversitement gone viral and shared across various social media including Facebook, Twitter, Tik Tok and Instagram. She congratulated Pakistani Nation on 14 Augurst, 2020.
Jazz Brand Ambassador
In August, 2020 Pakistan's cellular network Jazz offered Esra Bilgic to endorsed its brand which she accepted. Soon later she was seen in Jazz 4G TV commercials, social network campaign and also in Esra's twitter account tweets. She is regularly seen in Jazz 4G media & marketing advertisements on different Pakistani TV channels, YouTube, Radio broadcast, Print media and other various marketing channels.
In Jazz 4G advertisement she started with line "I am Esra Bilgiç ". And in another advertisement she looks very pleasant when she say
Salam Pakistan, Eid Mubarak from my side and Jaza Super 4G, Pakistan's Number one Network. See you soon

Esra Bilgiç
Her famous Jazz 4G line is "I am Esra Bilgiç". Esra's add on Pakistan Independence day 14 August, 2020 went viral and shared numerous times on social networks and video sharing App TikTok. Her voice is so cute when she say "Jashne Azadi Mubarak" and "PAKISTAN ZINDABAD" in Urdu language.
I am Esra Bilgiç and on this 14 August (2020) I will like to personally wish you all Jashne Azadi Mubarak (Happy Independance Day) from my side and Jazz Super 4G, PAKISTAN's Number One Network. PAKISTAN ZINDABAD (Long Live PAKISTAN)

Esra Bilgiç
Khaadi Brand Ambassador
Esra signed on as brand ambassador of one of Pakistan renowned clothing brand Khaadi.